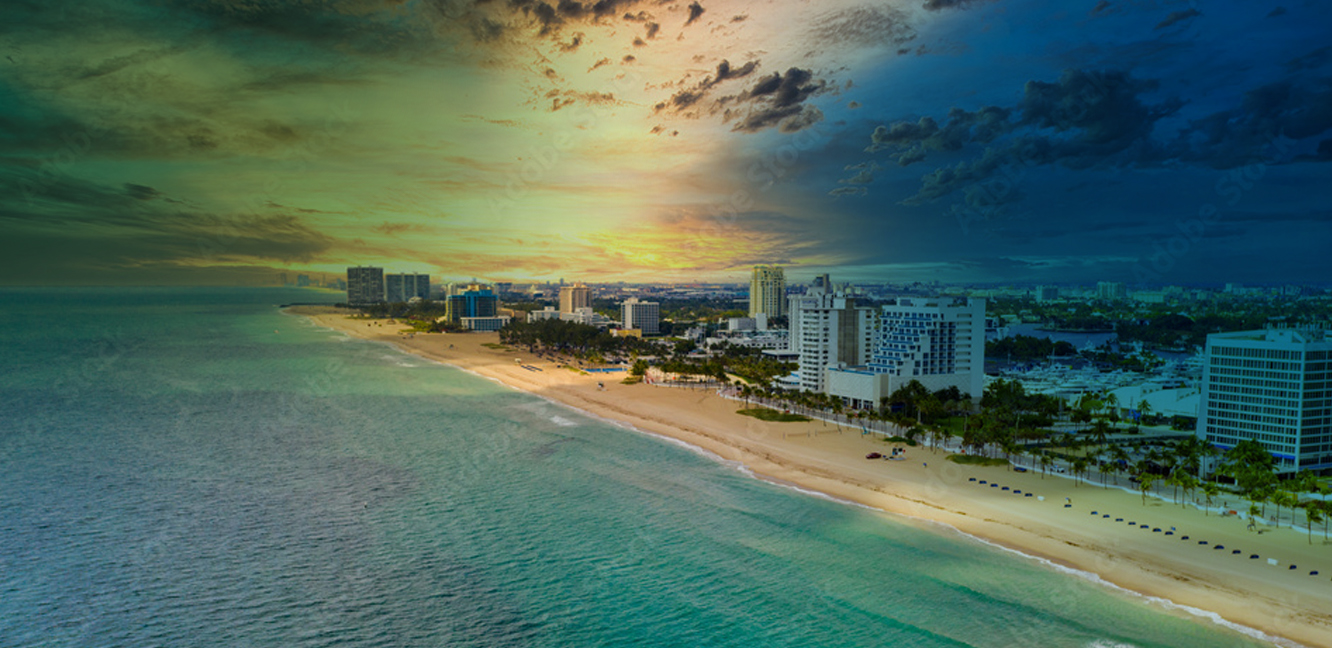 News
Southeast Florida Regional Climate Change Compact Provides Update to Regional Sea Level Rise Projection
October 29, 2015
Recommendations will inform flood control and infrastructure planning
Partners in the four-county Southeast Florida Regional Climate Change Compact (Compact) have prepared an update to the regional sea level rise projection used for important planning purposes in accordance with the technical recommendations of the Compact's Sea Level Rise Work Group. The update shows slight increases in short-term projections, but more significant increases long-term in the absence of dramatic greenhouse gas emissions reductions.
The Work Group finalized its recommendations earlier this month following a comprehensive review of recent scientific and technical literature. The report provides guidance in the application of a range of projections. Recommendations include a regional planning projection with a lower and upper projection for general planning purposes, and the use of separate projection for critical projects with a long design life.
While the 2015 Update includes several improvements to the previous projection, a notable distinction is in the projection baseline, which has been adjusted from 2010 to 1992, consistent with guidance provided by the U.S. Army Corps of Engineers and the National Oceanographic and Atmospheric Administration. Other updates include extension of the projection timeline from 2060 to 2100 and inclusion of processes that affect the local rate of sea level rise.
Overall there are minor changes to the short-term curves, but a more significant increase in the mid-and long-term projections. The 2015 update estimates sea level rise of 6 to 10 inches by 2030, or 3 to 5 inches above average sea level in 2015. Predictions for the mid-term are between 11 and 22 inches of additional sea level rise by 2060, and longer-term between 28 and 57 inches by 2100. A detailed explanation of how to use these projections is provided in the 2015 Report.
The 2015 Report is a key deliverable and planning tool in support of the Southeast Florida Regional Climate Change Compact. The Compact was formed in 2010 as a voluntary partnership between Broward, Palm Beach, Miami-Dade, and Monroe Counties to advance regional climate mitigation and adaptation strategies. The 2015 Unified Sea Level Rise Projection will now be presented for adoption by each of the Compact partner counties and member cities across the region to assist coordination in regional sea level rise adaptation planning.
Members of the SLR Work Group include researchers, senior scientists, and lead engineers representing the U.S. Army Corps of Engineers, the National Oceanographic and Atmospheric Administration, the South Florida Water Management District, the University of Miami, Florida International University and Florida Atlantic University.
The 2015 Unified Sea Level Rise Projection for Southeast Florida is available on the Compact website at: http://southeastfloridaclimatecompact.org/wp-content/uploads/2015/10/2015-Compact-Unified-Sea-Level-Rise-Projection.pdf
###