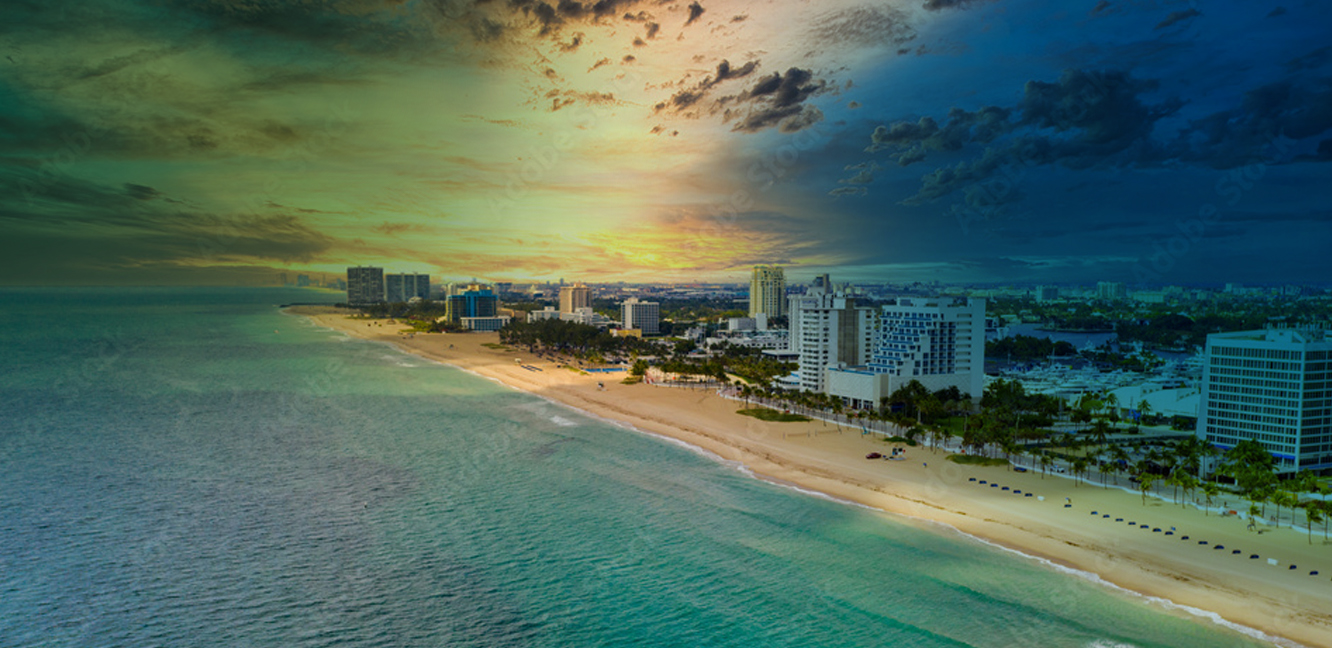 News
Southeast Florida Identified as Key Focal Area for U.S. Army Corp. of Engineers South Atlantic Coastal Study
October 20, 2020
The U.S. Army Corps of Engineers (USACE) is working with stakeholders across Florida, Alabama, Georgia, Mississippi, North Carolina, Puerto Rico, South Carolina, and the Virgin Islands to develop the South Atlantic Coastal Study (SACS), a collaborative effort among federal, state, county, and local stakeholders to plan and implement cohesive coastal storm risk management strategies for 65,000 miles of tidally influenced coastline in the South.
Southeast Florida is a selected focus area for the Study, given its different types of infrastructure, the social vulnerability* of the area, the need for a diversity of locations, the area's many environmental resources, and its unique geography and terrain. 
The study aims to support resilient communities and habitats by building a common understanding of risk from coastal storms and sea level rise. The study aims to:
Identify high-risk locations and focus current and future resources on the most vulnerable

areas.

Identify and assess risk reduction actions that would reduce risk to vulnerable coastal populations.

Promote and support resilient coastal communities by ensuring a sustainable coastal landscape system, which considers future sea level rise scenarios and climate change, and by providing information to stakeholders to optimize existing efforts to reduce risk.

Promote sustainable projects and programs through the development of consistent foundational elements to support coastal studies, and advance regional management approaches. 
The USACE will develop a Focus Area Action Strategy (FAAS) for the Southeast Florida region, identifying actionable risk reduction strategies to serve as examples of how vulnerabilities in other high risk locations can be addressed. 
To develop the strategy, USACE will employ a watershed model approach, through which it will: 1) provide a shared vision of a desired end state, 2) work collaboratively with a broad range of stakeholders to address water resources problems in an integrated and sustainable manner, 3) use a systems approach to understand the connection between natural and man-made systems, 4) seek long term, holistic solutions rather than piecemeal approaches, and 5) provide a strategic roadmap to inform future investment decisions by multiple agencies. 
Stakeholder engagement to develop the Southeast Florida FAAS has already begun. The USACE has held several webinar sessions and strategy development virtual workshops, and aims to complete the FAAS in by the end of 2020. To submit your comments, please email USACE Jacksonville District Project Manager Ashleigh H. Fountain, ashleigh.h.fountain@usace.army.mil
—
* "Vulnerability" in this study is defined as the susceptibility to harm human beings, property, and the environment when exposed to the hazard. Depth-damage functions, depth-mortality functions, and other similar relationships can be used to describe vulnerability.