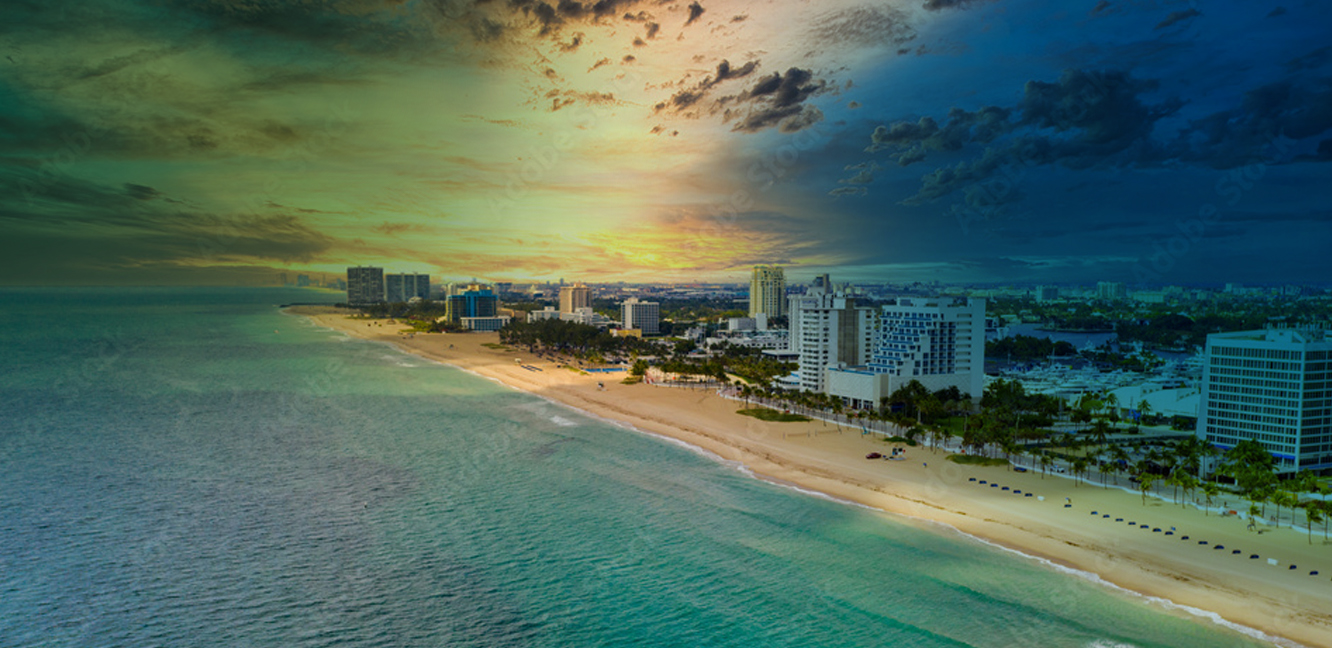 News
Regional Business Case for Resilience Demonstrates Compelling Need for Adaptation Investment Today
October 20, 2020
At the Compact's October Virtual Climate Leadership Summit, the Urban Land Institute (ULI) unveiled a year-long study—the Business Case for Resilience in Southeast Florida—commissioned by the Compact and the business community to systematically assess the economic impact of investment in resilience in the region, based on a regional economic analysis conducted by AECOM. The findings illustrate the shared interest for action by both the public and private sectors in investing in proactive flood protection and climate adaptation measures. It presents a compelling business case for the Southeast Florida region to make significant investments in resilient infrastructure now, including both community-wide and building-scale adaptation measures. Understanding the economic consequences of current and predicted coastal hazards is critical to inform decision-making on ways to protect communities, businesses, and natural resources. 
This Business Case for Resilience in Southeast Florida seeks to answer key questions, including what the costs and benefits of different adaptation actions are, and what actions can be taken today to promote resilience? The analysis presents estimates of the economic consequences to each of the four Compact counties if local governments and business communities fail to take action to mitigate the impacts from tidal flooding and frequent coastal storms, compounded by sea-level rise. 
Key findings include:
Lack of adaptation investment and infrastructure now will have major consequences for the economic wellbeing of the region

. Adaptation implemented now can protect $7.7 million in tax revenue for the region from 10-year storm events and $385 million in tax revenue from daily tidal inundation by 2070. Further, implementing adaptation measures can avoid $3.2 billion in structural losses from tidal inundation under 2040 conditions. 

Damage and losses can be reduced.

Investing in adaptation provides direct benefits in the form of avoided losses to property, as well as the potential for indirect benefits such as reductions in insurance premiums, stabilization or enhancement of property values, and associated tax revenues.

Community-wide adaptation measures have net benefits for the region

. Community-wide adaptation strategies such as sea walls, dune restoration and beach nourishment, and berm construction or raising provide significant benefits in the form of avoided property, sales, and tourist development tax losses and broad economic benefits to the community due to reduced impacts to both property and infrastructure, demonstrating a 2:1 return on investment (ROI).

Property and real estate values can be preserved and increase in value with building-level adaptation.

The ROI for individual adaptation strategies is 4:1.  

Jobs and economic activity can be preserved and generated

. Investments in adaptation can provide benefits to the region beyond the avoided impacts, such as by supporting the construction, operations, and maintenance jobs associated with the investment. 
CHART: ADAPTATION STRATEGY BENEFIT-COST ANALYSIS FOR THE REGION
The table shows the estimates for the cumulative impacts avoided and the cumulative cost of adaptation, net impacts, and resulting benefit-cost ratios for community-wide and building-level adaptation strategies for all four counties combined. In order to maximize adaptation benefits to the region, both community-wide and building level adaptations must be implemented throughout Southeast Florida.
The findings present an important opportunity for the government and business community to contextualize and advance investment in resilience measures. Coastal storms and sea-level rise have wide-ranging societal, economic, and environmental effects that extend beyond the borders of any one community. To advance economic resilience at the regional scale, the study suggests that the counties should avoid a divided approach to adaptation that fails to account for the complex interdependencies between local and regional economies and the critical role that regional infrastructure plays.
Importantly, the study acknowledges that while resilience investments can help to minimize the shocks from coastal hazards, they will not address underlying chronic stresses such as social inequity, poverty, unemployment, and the lack of industry diversification that affect the capacity of communities to respond to and recover from coastal hazard risks and shocks and stresses. It is critical for the region to invest in communities most in need of support—primarily communities of color and low income communities, and identify the structural factors that will improve their ability to be resilient to changing climate and flood conditions and, therefore, can enhance the livability and prosperity of the Southeast Florida region.