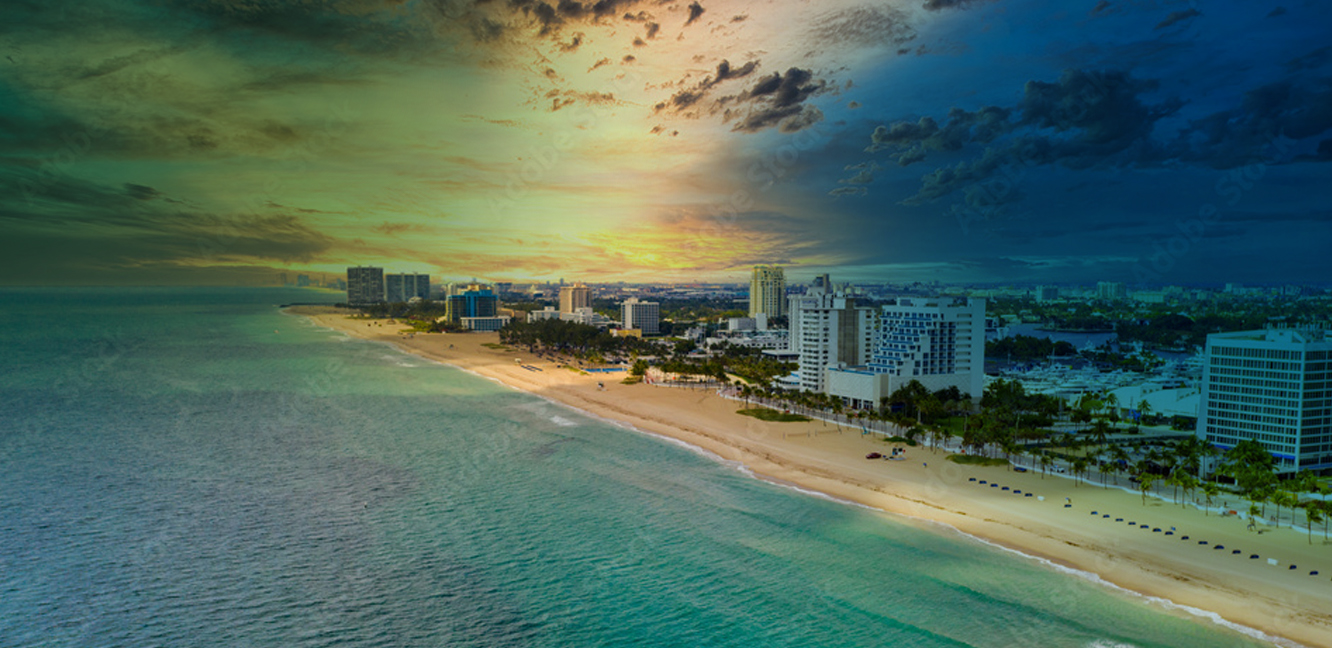 News
Miami-Dade's Back Bay Study moves forward with shared support for exploration of alternative coastal protection measures
October 5, 2023
August 18th marked a critical juncture in a multi-year planning process already underway between the U.S. Army Corp of Engineers (USACE) and Miami-Dade County, when the two entities reached an agreement to move forward with work on Part II of the expanded Miami-Dade County Back Bay Coastal Storm Risk Management Feasibility Study (Back Bay Study). On the table for Miami-Dade County is the potential to unlock several billions of dollars of federal investment (with USACE funding 65% and Miami-Dade County responsible for the remaining 35%) to significantly increase coastal protection and mitigate risk from the impacts of storm surge.
This agreement follows the Corp's approval for a one year pause to develop alternative concepts for further feasibility study granted in August 2022. The unique process allowed the County to consider other locations for potential storm surge barrier gates and integrate additional nature-based solutions or green infrastructure where possible into the plan and incorporate more community and stakeholder feedback. Army Corps and the county held a joint meeting on October 12, 2022, to discuss the Back Bay Study re-initiation, followed by weeklong charettes that took place in November 2022 and March 2023, and extensive stakeholder and public input. 
Two proposed storm surge reduction alternatives were developed during the charette and public input process, and this recently renewed commitment kicks off an additional four-year study period that will refine these alternatives. Over the next four years, the Corps will invest $7.3 million to develop a feasibility study with greater emphasis on natural infrastructure, as well as elevating and adding flood protections to properties and critical facilities—while ensuring increased focus on communities historically underserved by major capital projects. A new draft plan, available for public comment, will likely take about two years to develop. As is the case with most large infrastructure projects, it will likely be a decade or more before construction commences on any approved plan. 
Miami-Dade's study—one of many similar studies that USACE is working on in vulnerable coastal communities across the country, including in New York, Charleston and Boston—represents a significant advancement and evolution of the way in which the USACE is approaching such studies. Focused on quantitative risk mitigation for storm surge exclusively, the Corp has historically largely prioritized structural, grey infrastructure measures that are easily quantifiable, such as large walls, surge gates across canals and rivers, and pump stations. As part of the reinitiation, Miami-Dade study's can help set a precedent and forge a new path toward the greater incorporation of co-benefits from nature-based solutions in the benefit-cost analysis used by the Corp across their portfolio of Coastal Risk Management projects moving forward.