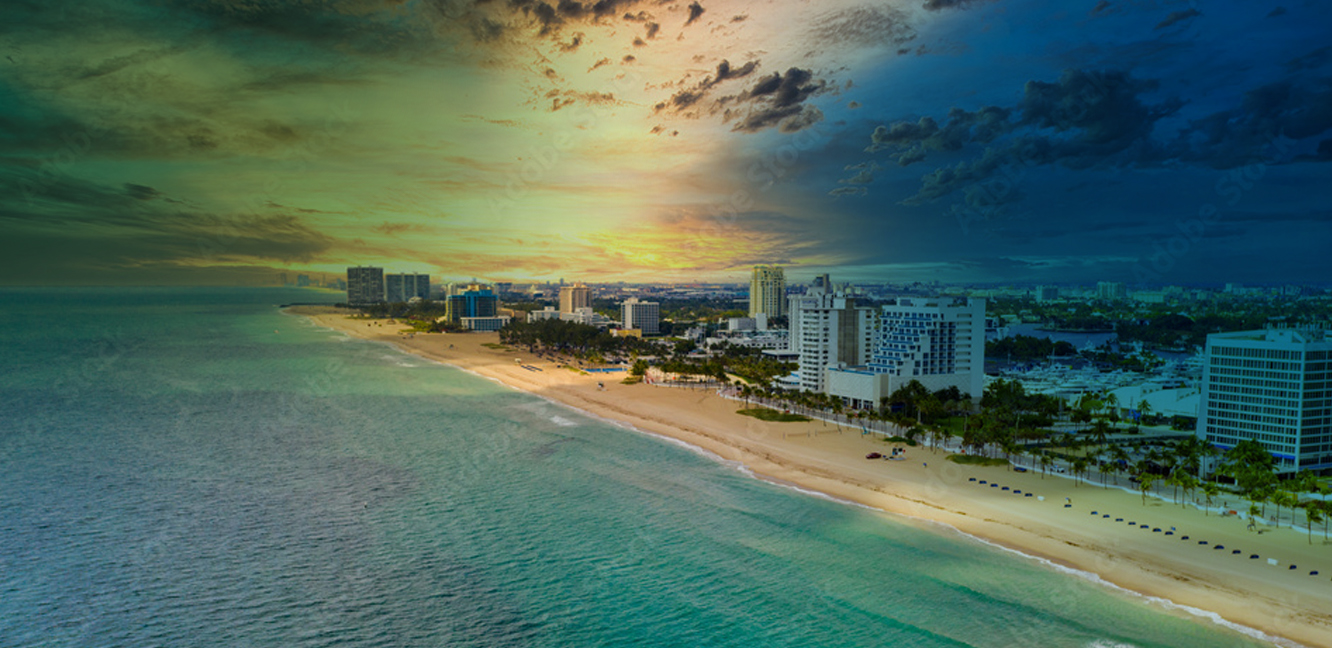 News
Florida Office of Energy releases the State's First EV Roadmap
April 8, 2021
In 2017, for the first time ever, Florida's transportation sector emitted more carbon than the electric sector, with more than 80% of transportation emissions coming from gasoline and diesel powered light, medium, and heavy-duty vehicles. Expanding electric vehicles (EVs) is a critical strategy to transition toward a lower-carbon economy in Southeast Florida and a recommendation within the Compact's Regional Climate Action Plan 2.0. This past December, the Florida Department of Agriculture and Consumer Services' Office of Energy released the Florida EV Roadmap, which is the first comprehensive investigation into the status and needs of EV charging infrastructure across the state for the next three to four years. Importantly, the report examines the projected EV population by county through 2030, analyzing where there is sufficient existing charging infrastructure to support projected EV growth, and where additional infrastructure will be required. Additionally, the Roadmap seeks to: 
Identify EV charging infrastructure impacts on the electric grid. 

Identify solutions for any negative impacts. 

Identify best practices for siting EV charging stations. 

Identify technical or regulatory barriers to expansion of EV charging infrastructure. 
The Office of Energy has committed to updating the Roadmap every three years given the pace at which the landscape for EV adoption is evolving. 
Florida's EV population has been steadily accelerating over the last decade, growing by an average of 1,600 vehicles per month in 2019, an adoption rate 32 percent higher than 2018, and more than four times the monthly adoption rate of 2017. As of 2020, there were over 60,000 light-duty EVs registered across the state, with an estimated 121,000 EVs forecast by 2030. While the Roadmap does not disaggregate the EV projection by county, Miami-Dade, Broward, Palm Beach Counties are currently leading in terms of existing EV infrastructure. 
A critical finding from the Roadmap analysis is that there are enough DC Fast Chargers (DCFC) to meet charging demand until 2025 and enough Level 2 chargers throughout the state to meet infrastructure needs for the next ten years. The amount of charging infrastructure is variable around the state and therefore the analysis examined infrastructure by county, calculated by scaling down the statewide estimates in proportion to each county's 2019 share of EV and light duty vehicles. In the four-county Compact region, in fact, there is sufficient EV infrastructure to easily meet the demand for the next three years, as outlined in the table below. 
TABLE: ADDITIONAL DCFC INFRASTRUCTURE REQUIREMENTS IN THE COMPACT REGION 
(Based on EVI-Pro Lite Infrastructure Projections)
The number of existing EVSE plugs and planned plugs for each county were subtracted from EVI-Pro Lite's projected EV infrastructure needs to determine if additional stations will be necessary in the next three years. The negative numbers indicate the number of installed EVSE over the projected EV infrastructure needs in a county.
| | | | | | | | | | |
| --- | --- | --- | --- | --- | --- | --- | --- | --- | --- |
| | Existing DCFC Plug Count | Planned FDEP Plug Count | | 2021 Projected DCFC Plug Count | 2021 Additional Plugs to be Placed | 2022 Projected DCFC Plug Count | 2022 Additional Plugs to be Placed | 2023 Projected DCFC Plug Count | 2023 Additional Plugs to be Placed |
| Broward | 81 | 8 | | 49 | -40 | 52 | -37 | 60 | -29 |
| Miami-Dade | 134 | | | 58 | -76 | 62 | -72 | 70 | -64 |
| Monroe | 9 | | | 2 | -7 | 2 | -7 | 3 | -6 |
| Palm Beach | 45 | 4 | | 40 | -9 | 43 | -6 | 49 | 0 |
This finding belies the common conception that insufficient charging infrastructure is truly a factor limiting the adoption of EVs. In fact, this misconception exists even among current EV drivers. The Office of Energy conducted a survey of EV drivers as part of the Roadmap (of which 20% of respondents came from the Southeast Florida region)—86 percent of respondents indicated they do not feel there are is adequate existing public charging infrastructure, and 31 percent felt that "lack of public charging" is the main barrier to EV ownership. This information suggests that investing in public education around EV infrastructure in the Compact region may be a critical strategy in aiding the accelerated ownership of EVs.