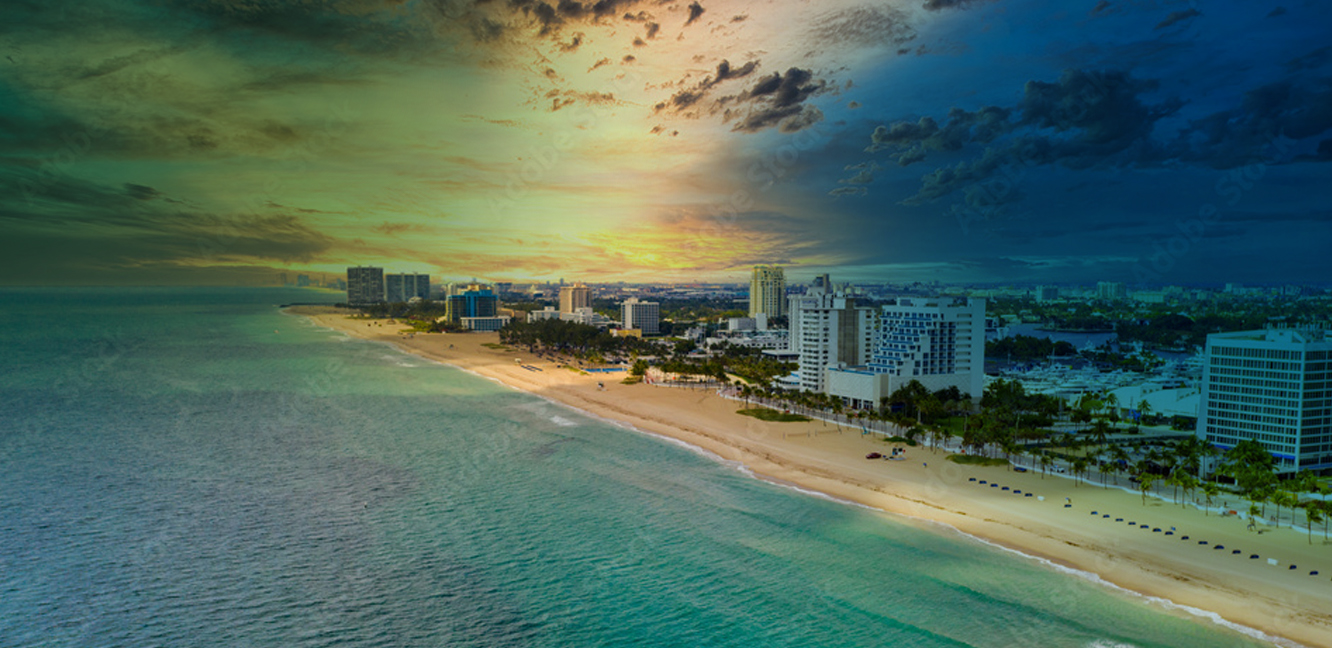 News
Broward County Historic Rain Event Reinforces the Need for Robust Resilience Advancements
June 26, 2023
Rainfall intensification is an increasingly challenging aspect of compound flood risk impacting Southeast Florida communities, which is exacerbated by a changing climate. April's historic rain event, where roughly 88 billion gallons of rain fell across south-central Broward County within a several-day period, left many stranded or trapped in their homes and vehicles, caused millions in damages, and shut down the international airport, schools and businesses for several days. The catastrophic event is a grim reminder of the pressing flood risks in the region. In a roughly eight-hour window, the Fort Lauderdale-Hollywood International Airport received 25.91 inches of rain— a third of Fort Lauderdale's average annual rainfall and the largest rainfall event ever recorded in the city in a single day, eclipsing the previous record of 14.59 inches set in 1979. Statistically, this event would be considered a thousand-year rain event—or one that would have a 0.1% chance or less of occurring in any given year. Disturbingly, models predict that such extreme flood events will occur with greater frequency as the world continues to warm.
The Broward County Resilience Unit has been an early leader in working with strategic local and regional partners and utilizing compound flooding maps that integrate rainfall intensification to predict how major flood conditions affect water management and transportation. The most recent rainfall event, where the modeled conditions were realized, allows the science community to learn how accurately the models are able to replicate such extreme events. The results indicate the models are very robust. Broward's Future Conditions models not only evaluate the impacts of rainfall intensification, but consider these events under the combined conditions of predicted sea level rise, king tides and storm surge. This approach has proven effective in replicating what can be expected from a 1,000-year event.
Broward County has also embarked on a two-year planning effort aimed at bolstering community resilience through infrastructure improvements and redevelopment strategies. This crucial project, initiated in April 2022 and scheduled to be completed in March 2024, will help Broward adapt to these changing and future conditions. One aspect of the project is creating an interactive hydrologic model results viewer. This viewer will assist local governments in the county in identifying vulnerable areas and prioritizing adaptation measures where flooding impacts are the greatest.
As mentioned in the above story, Broward County and many of its municipalities have also secured significant funding for resiliency projects through the Resilient Florida Grant Program. Many of these projects specifically address neighborhood stormwater improvements to mitigate the effects of flooding.
Additionally, the Compact counties and its partners in the private sector continue relentless advocacy for the long-awaited Central and Southern Florida (C&SF) project, which underpins the overall resilience efforts by all local governments in the region. This effort encompasses an active Section 216 Study focused on immediate priorities and a broader, longer-term Comprehensive Study, both of which are essential in addressing flood vulnerabilities resulting from climate change, sea level rise, and increasing storm severity.